About Dirtworks:
Born from a passion for riding, Dirtworks has been designing, building and maintaining bicycle skills parks, pump tracks, and Trails since 2008.
We've built well over a dozen successful bicycle skills parks and some amazing trails, too.
That's a lot of happy riders.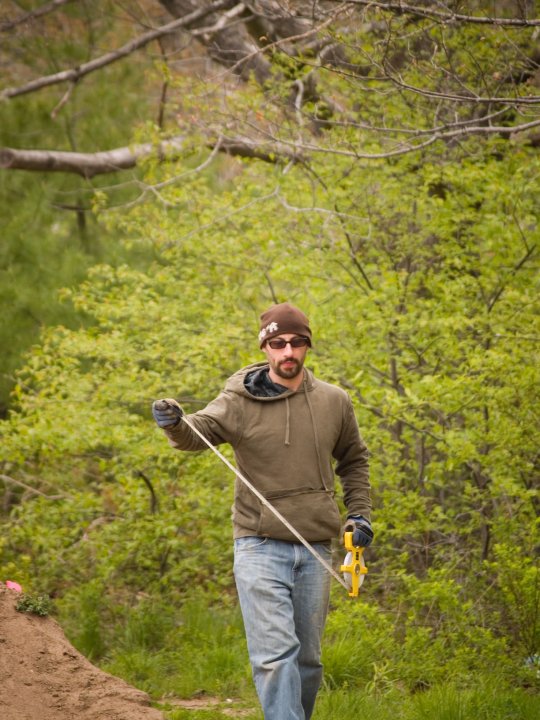 Who is Dirtworks?
Fanatical about Flow
Adam Shore
Principal
Dirtworks began as a volunteer organization working with the city of Halifax to build its first Dirt Jump Bike Parks. We have over a dozen in Greater Halifax now.
Adam has been a rider, builder,  coach, community member, and leader in the bicycle and dirt bike communities for as long as he can remember.
An original founder of East Coast Mountain Biking, he helped forge a thriving social community around mountain biking, social and competitive events – the pinnacle being a 2002 Canada Cup event build with a volunteer team at Ski Martock. Trails and facilities were built for downhill, dual slalom and cross country racing as well as BMX, Dirt Jump and Freeride demonstration events.
He lives and breathes two wheeled sports.
Featured Trail: Chicken Cougar – Keppoch, Nova Scotia
Devon and Marc flow Chicken Cougar. This trail is designed for riders of all skill levels, but it takes a lifetime of practice to ride like these guys do. Chicken Cougar features rich berms and subtle rollers throughout packing a huge punch of fun. Riders travel far and wide to ride a trail like this. Keppoch offers weekend shuttles during riding season.
How can we assist you today?
Adam delivered as promised and his design and quality of work have been 10 out of 10 at the Keppoch
Greg Stewart